Network Management
Make better & faster decisions across network hierarchies
Smart VoC
Tracking
Know how effectively are you managing your customer needs!
Operations Management
Integrate and analyse company's health across disparate data sources
Marketing ROI
Visualize marketing impact by integrating sales & promotions data
Other Solutions
Overcome many other analytical challenges across industries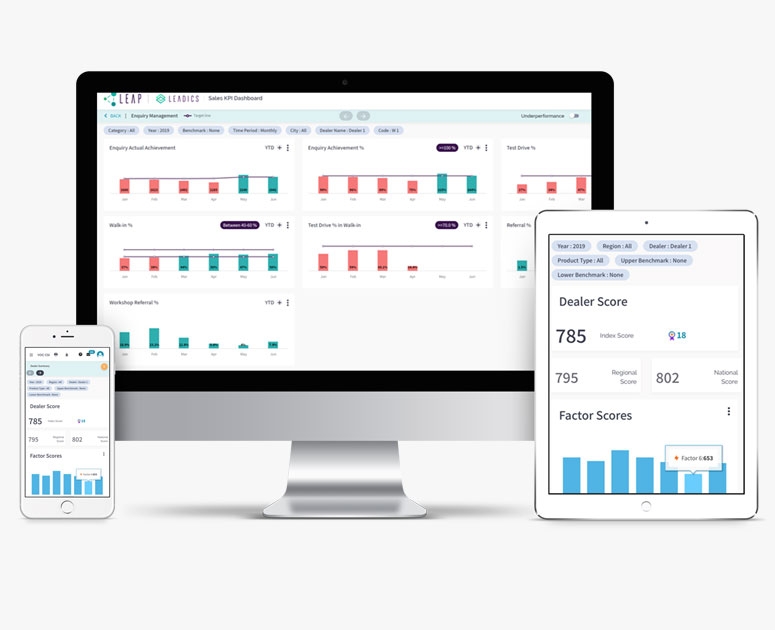 Performance Metrics Visualization
Visualize integrated data metrics from multiple internal & external sources
Intelligent Insights
Augmented user experience with machine based learning
Real time notification & alerts
Collaborative BI with other users through real-time sharing environment
Integrated Workflow system
Effortless creation of action plans for improvement areas, follow up & tracking
Secure Environment
Multiple factor authentication to ensure secure and profile based access
Work on real time updates from
multiple data sources
Data sets Integration
Platform analytics would allow users to combine different data sets and studies and visualize them together on a single platform
Dynamic visualization
LEAP will support richer visualization with added charting & infographic libraries along with dynamic visualization capabilities for standard data sets
Cross Platform support
Dashboards on LEAP will be built on responsive frameworks and will work seamlessly across mobile, tablet and desktop interfaces
Faster Turnaround
The platform framework allows for quicker turnaround on new visualizations while taking care of standardized requirements
Driving data driven improvement approach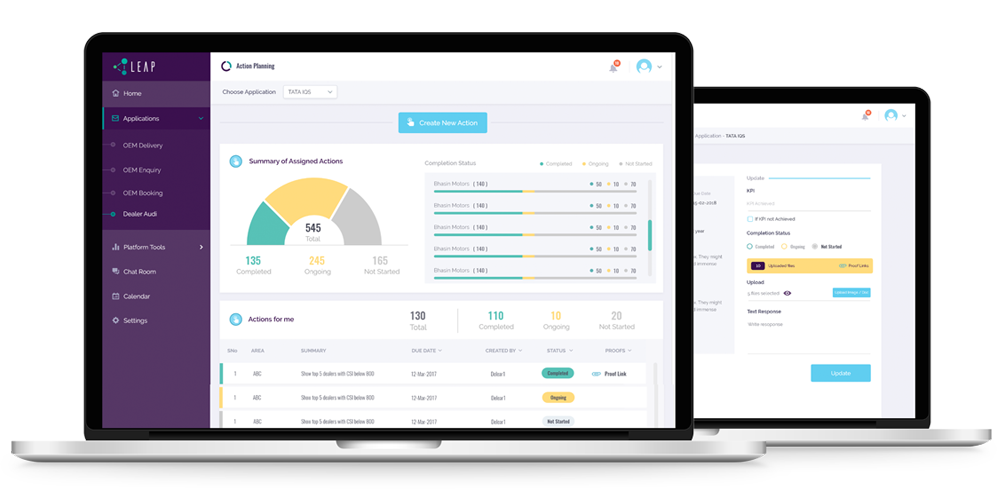 Action Planning
Effortless action planning would be enabled across views through easy to use web forms which will capture information efficiently and comprehensively.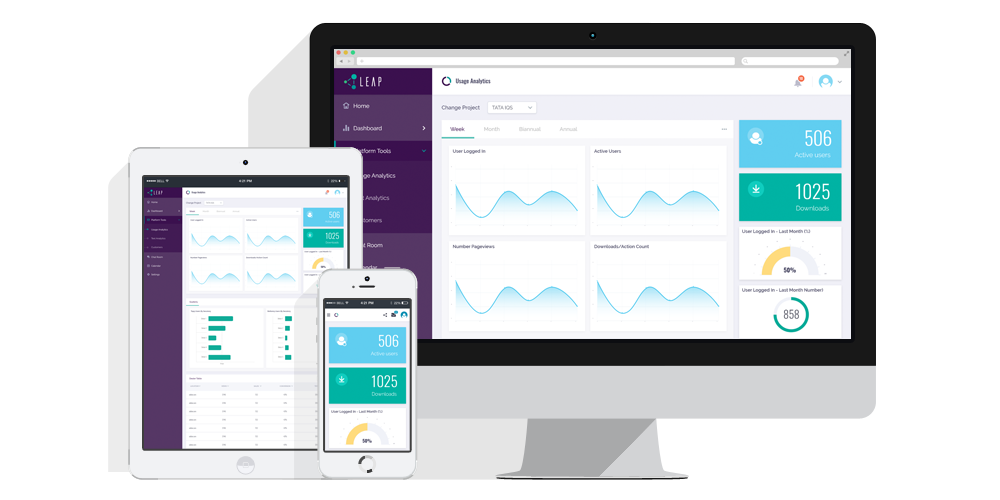 Usage Analytics
Insights into how the dashboards are currently being utilized by the network. Are stakeholders really spending time in assessing improvement areas?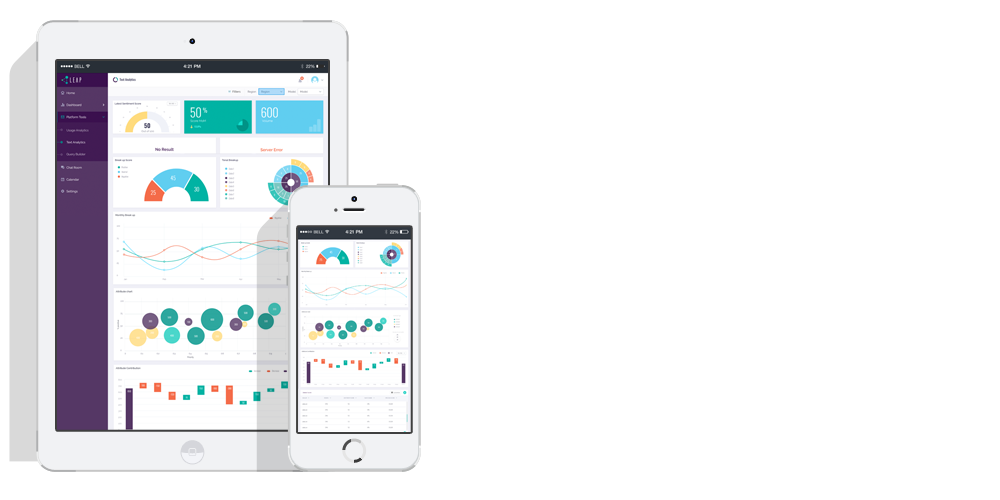 Contextual Heuristics
LEAP offers Contextual Heuristics knowledge base for pattern recognition and insight prioritization. Simple query based insight engine allowing end users to easily look for key findings from the data.
Python based NLP and Text Mining Service – LEAP combines strong technical & language capability with automotive functional and domain expertise for meaningful and relevant analysis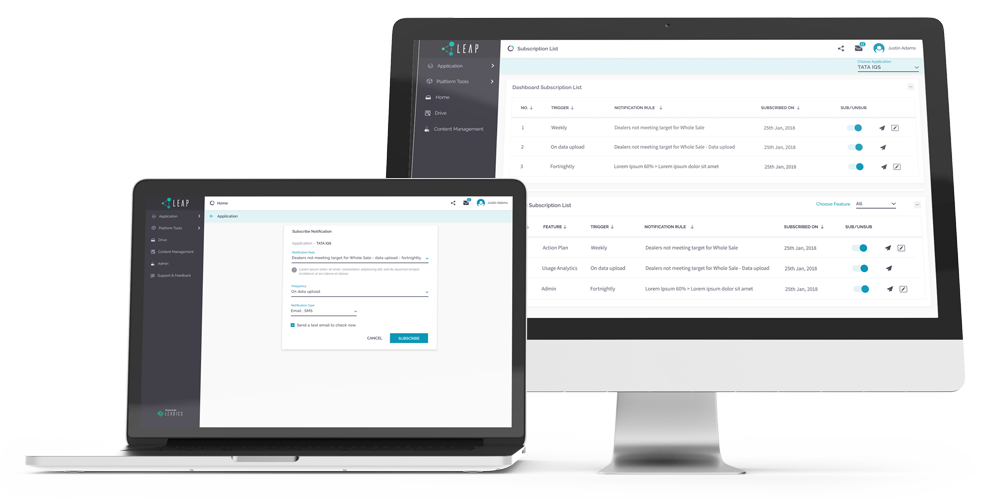 Reminders & Notifications
Automated reminders and notifications will be sent to alert stakeholders through e-mails and SMS and to ensure timely updates and follow through on planned actions
Cloud Scale
The LEAP cloud architecture scales automatically and elastically to effectively manage your data at fast speeds
Security
2 factor authentication, single sign on and unique user based access along with encrypted session logins to ensure a more secure and streamlined application access
User & Access
Management
Easy addition, deletion and monitoring of single and bulk users across applications along with user profile and access management for application admins
Data Version &
Management
Role based content management on cloud hosted drive for intuitive version management of data sources and easy addition and revoking of versions
LEAP Data Analytics Platform
Learn more on how LEAP can help your organization become more effective.
Request Demo